August 14, 2012
A couple of years ago at our Fall Quilting Retreat, Ruth shared with us a new technique she found for making a "quick and easy" block.  What do you know – on YouTube I just found a good demo for this same quilt block.  The best part is that you can pick up some additional quilt lessons from watching this video.
 How would you like to learn how to sew quilts by making a block in about 10 minutes and an entire quilt top in 60 minutes?  If your answer is "yes", then these quilt lessons are for you!  These are ideal projects for Newbie Quilters, and these projects can also assist Experienced Quilters in downsizing their stash.
Our Community Quilters have taken some of the fabrics on hand and cut them into 10" squares.  Four of these squares were sewn with an extra 10" accent square inserted to make this quit top.
This is a terrific block to make if you have a desire to downsize your stash.  I've tried this method using smaller squares and found it a little more challenging to manipulate and get the accent square straight and evenly balanced.  So, I would suggest that you initially try this block using 10" squares.  If your fingers work well, this would make a cute table runner using much smaller squares.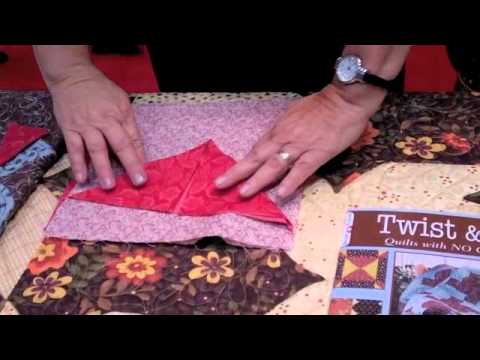 Check out this video to see all the quick and easy methods demonstrated.  Who wouldn't want to be able to make an entire quilt top in 60 minutes?  And, isn't it nice to take quilt lessons where you do not need to purchase extra quilter supplies?
What has been your favorite quilt lesson?  What type of quilt tops have you completed in 60 minutes (or less)?  (see "Leave a Reply" below)
 Please let me know if there are specific topics you would like discussed.  We are always looking for input from our Readers.
 Visit us at QuiltAddict.com to see why quilting is ……………….A Great Habit.
Shop These Quilting Supply Partners for Great Prices!